frequently asked questions
I can't print my tickets
It's likely that the problem is with your computer's Adobe Reader program, which is the software that you will need to use to view and print your tickets.
Help us, help you. First, consider these three questions:
1. Is the View/Print Tickets button working? Does it open the ticket PDF file when clicked?
If you click the VIEW/PRINT TICKET button and nothing happens, the problem you're experiencing is related to the browser that you're using (Internet Explorer, Firefox, Chrome, etc.). Our recommendations are to either download the latest version of your browser (we recommend Firefox) or try to print your tickets from a different computer. Please keep in mind, we always have a way to resend your tickets to you, so if this problem persists please don't hesitate to give us a call.
2. Can you see your ticket(s), but cannot print them?
If you're able to view your ticket(s), that's a great start! Please check that your printer is turned on and ready to print. Since you can see your ticket, try to print by right clicking your mouse to send the prompt to your printer.
If you're clicking on the VIEW/PRINT button and your tickets aren't opening, it's likely that your computer is not equipped with the necessary software to view and print your tickets. To download or update to the most current Adobe Reader Software, please visit Adobe.com and follow the steps to download/update this software.
3. Are you clicking on the View/Print Tickets button and receiving a black or grey screen?
This means that your computer is not recognizing the Adobe Reader Software properly. Try to reinstall the software by visiting Adobe.com.
Keep in mind, we always have a way to resend your tickets to you as a PDF attachment. If you'd like to discuss any of these problems with a real human being - submit a support ticket or contact us by phone. Our contact information is located on the left hand side of your screen.
Picking up tickets at Will Call or claiming 'Soft Will Call' orders
A 'Soft Will Call' order means that your name has gone onto a list and no hard ticket has been printed for your order. Will Call or Hard Will Call means that there are hard tickets waiting for you to pick up. Typically, Soft Will Call check-in or Hard Will Call tickets can be picked up at the box office or gate located at the venue.
If you have any questions as to where your Will Call tickets should be picked up, please refer to the venue page on MIDWESTIX or contact the promoter or venue directly as we are not always provided with that type of venue information.
What to have with you:
The event organization and venue reserves the right to require one, or both, for entry. We always recommend that you have the following items with you when you pickup your tickets at Will Call:
Order confirmation number (feel free to bring a printed copy of your confirmation email.)
Valid ID (driver's license, student ID, library card... anything that has your name and and picture on it will work. AND yes you have to have an ID, no exceptions.)**
Credit Card used to purchase tickets.

** If your ticket was purchased under a different name you will need to have the purchaser contact us to add your name to the order. Otherwise, they will be the only person that can pick up the tickets or be validated for entry via Soft Will Call and you will have to be with them when they are let in the venue.
Trying to buy tickets for an event and the page reads, "Tickets are no longer available online." What does that mean?
This message could mean only one of two things:
Either the event is sold out
Online and telephone sales have ended
Event promoters and venues control when their ticket sales start and end. If you'd like to get in touch with us to confirm which one of these is the reason why sales are no longer online, we'd love to hear from you!
Just a reminder...
If you see the "tickets are no longer available online" message, not even the nicest Customer Care Representative at MIDWESTIX can sell you tickets. Regardless of whether or not they're sold out or no longer available, our representatives no longer have the ability to sell tickets for that event. We apologize for the inconvenience.
Questions about an event listed on MIDWESTIX
MIDWESTIX does its best to stay on top of event details. However, our Customer Care Representatives may not have the most up-to-date information about the event or venue. Give us a shout and we'll do our best to get your question answered. You can also check for the answer on the event's ticketing page located on our website or contact the event promoter/venue most directly associated with the event for answers to specific questions or concerns.
I accidentally purchased tickets for the wrong date/time for this event. Can this be changed?
OOPS, it happens! If MIDWESTIX is selling tickets for the new date and time, and tickets are still available, we can simply exchange the tickets for you - free of charge!
Please keep in mind...
If the event you're attending is Reserved Seating, we can't guarantee that the same seats will be available.
I used the wrong email address when processing an order. Can this be changed or updated?
Due to security reasons, we do not provide customers the ability to change the email address we have on file for an order themselves. In order to do this, we will need to hear directly from the customer whose name is on the account to verify account information. We apologize for the inconvenience, but would love to hear from you! Our contact information is located on the left hand side of your screen.
I accidentally duplicated my order and my credit card has been charged twice
If you can call us to inform us of this duplication the same day the order went through, please do so! The sooner you notify us, the better. Regardless, to get this issue resolved, we need to hear from you ASAP. Don't be a stranger - contact us by phone or email. Our contact information is located on the left hand side of your screen.
I think I processed an order, but I never received a confirmation page
Did you enter all of your credit card information and not receive an immediate confirmation screen allowing you the ability to VIEW/PRINT your tickets/receipt?
Then your order was not successfully processed. Take a second to see if any error prompts are located at the top of your screen informing why your order was not processed.
Check your email address, junk and spam folder
If you didn't receive anything from us this is another indication your order was not successfully processed. If you would like to further discuss this with us – email us or give us a call. Our contact information is located on the left hand side of your screen.
My credit card is being declined when trying to process an order
Please take a moment to view the message you're receiving at the top of your screen.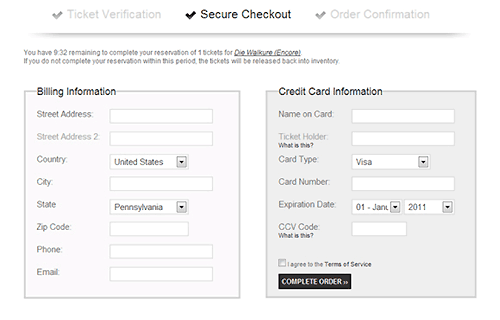 If the message reads DECLINED...
...then it means your bank has declined the transaction. This could be anything from insufficient funds to an address discrepancy. Make sure that the billing address you inputted is the one associated with the card you're using. This address is typically where your statements have been sent. If you're sure your using the right address and are still declined you need to contact the bank that issued your card to find out what the issue is or use another card to finish your transaction.
Can I resell tickets through MIDWESTIX?
MIDWESTIX is a PRIMARY ticketing company, which means that we partner with event organizers, promoters and venue managers to help them sell tickets online, over the telephone, at our outlets and at their box office. We do not provide a service that allows ticket buyers to resell tickets online.
Can I bring a cooler, water, chairs or camera to the event?
Each event and venue will have its own rules on what can be brought into the event. Outside food and beverage, even water, generally DON'T make the cut. We make every effort to make this information available on the event page, however, personnel at the door/gate of the venue always have the final say. If you can't find the answer to your question on the venue or event page on MIDWESTIX you can try contacting the venue or associated promoter directly.
Are kids free?
Each event will have its own cut off age for children to attend the event for free. This age, if offered, will be stated on the event page. If there is no "Under Age Free" notations on the event page then you will have to pay for a ticket for each person attending the event.
Do I get a refund if the event is moved to another location?
The promoter of the show makes the call as to when to issue a refund, NOT MIDWESTIX. You will receive an email with a refund notification if the promoter issues a refund. In general, if the show takes place, even if the venue has changed, then there are no refunds issued. Please review the Terms and Conditions on MIDWESTIX.com for more information.