MWT OnSite Solutions
We Bring the Hardware!
With the MWT OnSite Solution we are fully scalable to meet your equipment needs. The MIDWESTIX team can bring:
• Laptops & iPads (or use yours).
• Scanners for fast check-in.
• An internet hotspot for wireless.
• CC swipes to accept Credit Cards.
• Printers to print tickets on-site.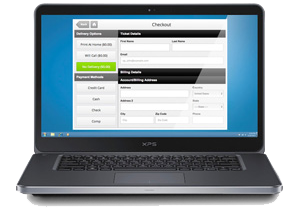 Helping You Sell
Tickets Anywhere!
MIDWESTIX is committed to helping you sell tickets, wherever your ticket-buyers are. For many events this means at the gate! With MWT OnSite you can take our technology on the go and sell tickets at the gate, in a parking lot, at camp grounds...no matter where you are!
People Power
It's important at MIDWESTIX that you have successful events and no day is as important as game day. MIDWESTIX can deploy a team of trained experts to handle your box office from the moment the gates open to reconciliation at the end of the night. We also offer FREE training for your staff so they're ready to go on event day.