Reserved Seating Venues
Reserved Seat Ticketing
MIDWESTIX's durable ticketing platform is built for theaters and venues with reserved seating needs. This includes a box office interface for point of sale transactions, thermal ticket printers, scanners to validate all ticket types, custom ticket stock, and the ability for buyers to choose their own seats online!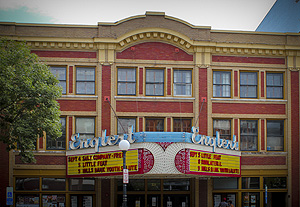 The Englert Theatre
In 2004, Iowa City's dream became a reality when The Englert Theatre reopened for live performance for the first time in over 60 years. MIDWESTIX was there to provide all the ticketing for the newly renovated 1,071 seat venue. Today we have integrated tickets sales at the box office, created custom event pages and ticket stock, and specialized system development to meet their needs.
Civic Music Assoication
Celebrating 90 years, Civic Music brings world class, award winning talent to Des Moines. A majority of their shows happen at Sheslow Auditorium, located on the Drake University campus. MIDWESTIX has been working with Civic Music for over 10 years to provide ticketing for their season passes and individual concert tickets. We also provide design services for all their marketing.