Social Marketing
Marketing Through
Social Rewards!
Turn your customers into promoters! Reach new audiences by motivating customers to share events on Facebook and Twitter. Social Rewards offers a discount on ticket service fees, in exchange for posts, likes and tweets about the event. Each buyer can promote your event to hundreds of potential customers without you spending a dime!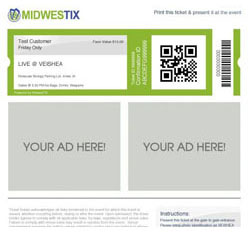 Free Ad Space on Every
Print at Home ticket!
Take advantage of free advertising space, customizable at your discretion. Generate additional revenue by promoting sponsors and affiliates. Reinforce your brand with a memorable image or your website. Every print at home ticket includes two 3.5" squares for logos, ads, or other images and graphics.
Keep in Touch
with Your Buyers!
Reach out with Email Outbox! Communicate with your MIDWESTIX customer database by utilizing the Email Outbox. Create, draft and send emails completely within the system. You'll be able to deliver important updates to attendees of a certain event or promote future events to past customers.